What is MakerBot's 3D Printer Certification Program?
The MakerBot Certification™ program is an online course that equips teachers and students with the skills and knowledge needed to get the most out of their 3D printing program.
This comprehensive program teaches Educators and students to use 3D printers in the classroom. It bridges the gap to ignite design thinking and creative problem solving with 3D printing.
Teachers learn how to setup and operate a 3D printer and then develop lesson plans or projects that enable students to use this technology for their own learning. The lesson plans are sequenced, step-by-step learning experiences that use text, graphics, voice-over and videos to introduce the ideas and concepts. The program is available online as fully self-paced lessons.
What is included in the MakerBot Certification Program?
MakerBot's Certification program is a comprehensive syllabus, aligned to ITSE standards. The program includes a stream for teachers and a stream for students.
"The learning materials in the MakerBot Program are packed with helpful information and manage to convey the excitement, innovation and creativity that 3D printing can bring to the classroom and makerspaces."

— ISTE Reviewers
The Educator Certification coursework includes the following modules:
3d Printer Operation
Design thinking and Applied Design Thinking
Design for 3D Printing
Curriculum Creator
The student Certification coursework includes:
3d Printer Operation
Design thinking
Applied Design Thinking
Design for 3D Printing
Training content Overview
The content teaches Educators and Students how to use 3D printers with confidence. It also includes how to set up and teach 3D printing in the classroom, plus design for 3D printing. The coursework is over 100+ lesson plans strong and turns a classroom 3d printer into a useful and engaging tool
Teacher Training Modules
The MakerBot Certification ™ program provides access to a full set of interactive content, projects, quizzes and exams developed by MakerBot Certified Educators. For Educators, the course features two levels:
Level 1: Operator (configuration, usage, software, 3D modeling, problem solving)
Level 2: Curriculum Creator (administration of STEM classrooms, creation of 3D printing projects)
The Curriculum Creator is comprised of 24 lessons, including how to prepare your classroom for 3D printing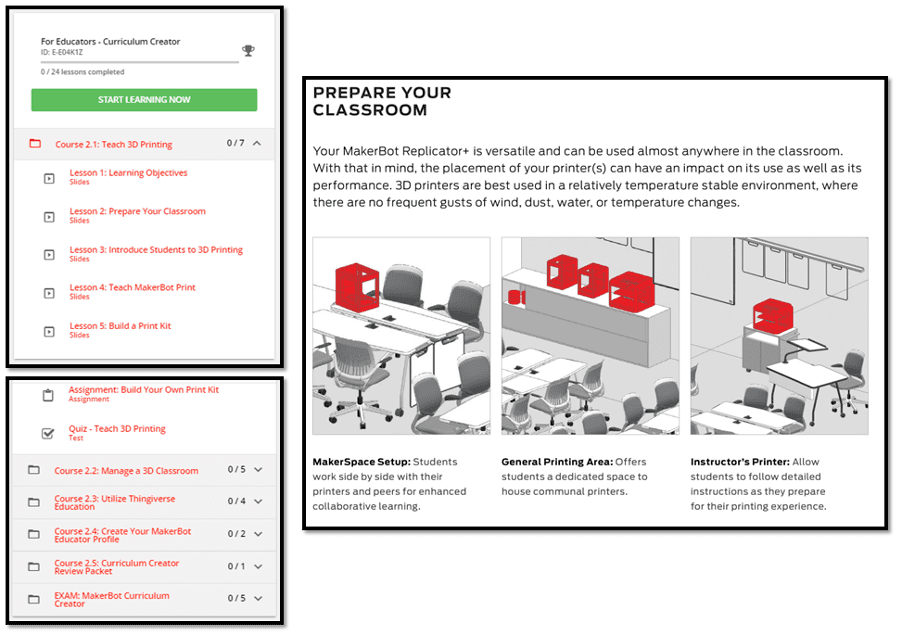 Student Training Modules
For students, the certification program includes 4 chapters that are also available to the teacher. Each chapter addresses key competencies for effective use of 3D printing, incorporating design thinking


Operator – Learn how to set up and manage your MakerBot 3D printer, create your first prints, and troubleshoot common issues.
Design Thinking – Learn how to solve real-world design challenges using critical problem-solving skills including observation, ideation, and design.
Applied Design Thinking – Learn how to build on the fundamental Design Thinking skill set and approach your own projects with creative problem-solving skills.
Design for 3D Printing – Become a MakerBot 3D printing expert and learn how to apply advanced 3D printing skills for building exceptional models
The MakerBot Certification™ Program for Educators and Students is a powerful tool that will help both teachers and students to develop confidence is using 3D printers, develop design thinking skills, and enhance learning outcomes as a result
Included free with Sketch
Best of all, the MakerBot Certification™ Program comes with the Sketch 3D Printer package, and includes two teacher and ten student certification licenses. 
You can also buy the Certification Program as an add on with other MakerBot 3D printers.
Find out more
Interested in 3D printing ideas for your classroom? Download our MakerBot Educators Guidebook for some great advice and inspiration on using 3D printers in Education settings.
If you would like to learn more about The MakerBot Certification™ Program and how it can enhance your school's 3D printing journey, contact the Education Team at MakerBot Australia or take a look at the MakerBot Certification program page