Print bolder and bigger with education support every step of the way.
Sketch Large is MakerBot's largest 3D printer offering with printer training, student curriculum and filament for the whole semester included.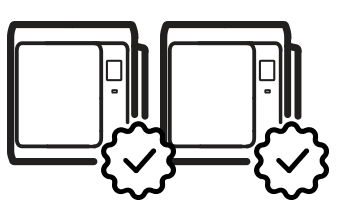 Fit up to 10 student projects on one build plate.

Print large classroom projects without compromising on size.

Leverage the printer's full print chamber and print up to 8.6" in length, 7.8" in width and almost 10" in height.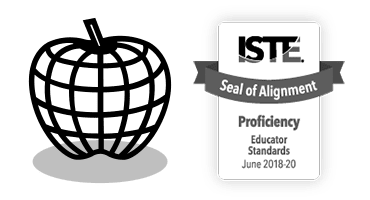 Resources every step of the way
Get started on day one with printer training for both teachers and students.

Dive into over 15 hours of MakerBot's design thinking curriculum for students.

Access 600+ lesson plans across various grade levels, subjects and skill levels.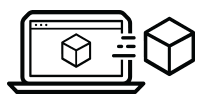 From digital model to 3D print
Prepare and queue all your students' 3D models in minutes.

Use your printer's onboard camera and monitor prints even when away from the classroom.

Software is free with no installation required and it's always up to date.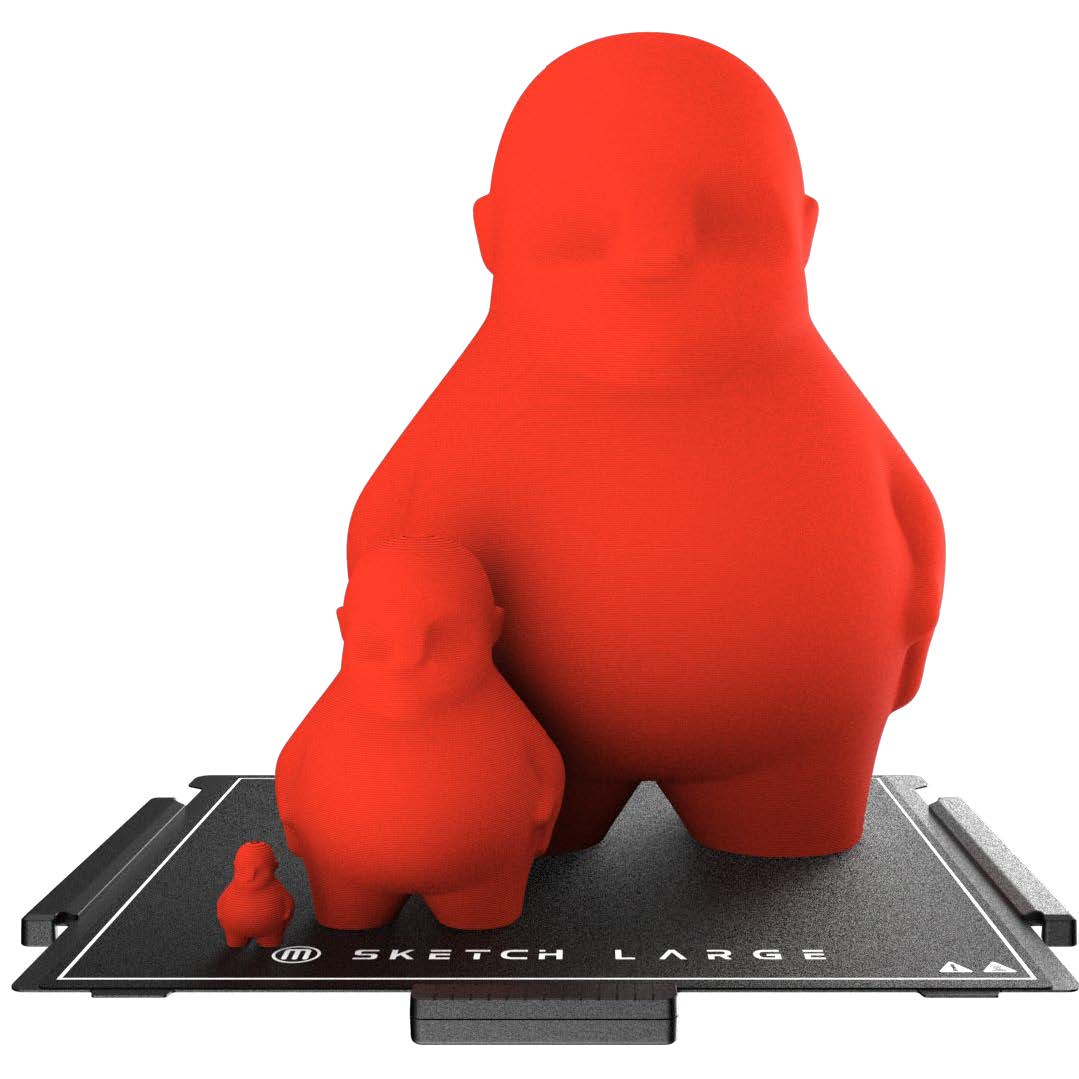 Sketch Large Drives Innovation with Bigger Possibilities
With a bigger printer comes the ability to print larger projects. From printing different bridge structures for physics, printing the skull of t-rex for biology class, or leveraging 3D printing for problem-solving projects.
● 670 Cubic Inches of Print Volume
● Print up to 8.6" in length, 7.8" in width and almost 10" in height
● 3 Spools of Filament included with every SKETCH Large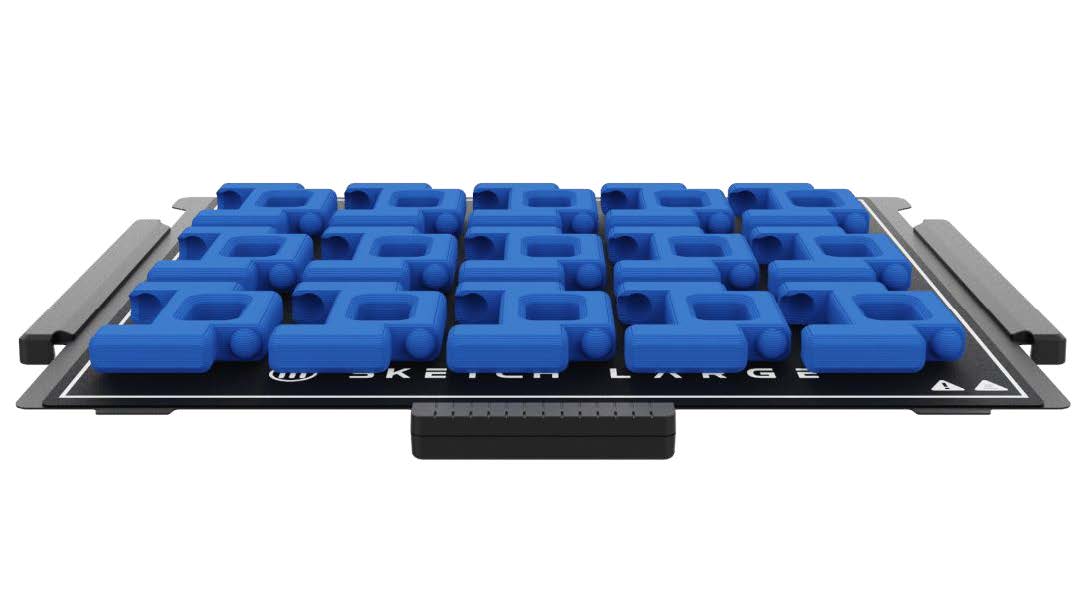 Streamlining Printing for the Whole Classroom
With the SKETCH Large you can skip the 3D printing bottleneck and print up to 10 projects on a build plate at the same time, giving you your time back in the classroom and students more opportunities to 3D print.
● Fit up to 10 students projects on the build plate at a time
● Print more projects in less time with a large build plate
● Get ahead of teacher prep and enough prints for the whole class
WHAT'S INCLUDED WITH THE SKETCH LARGE 3D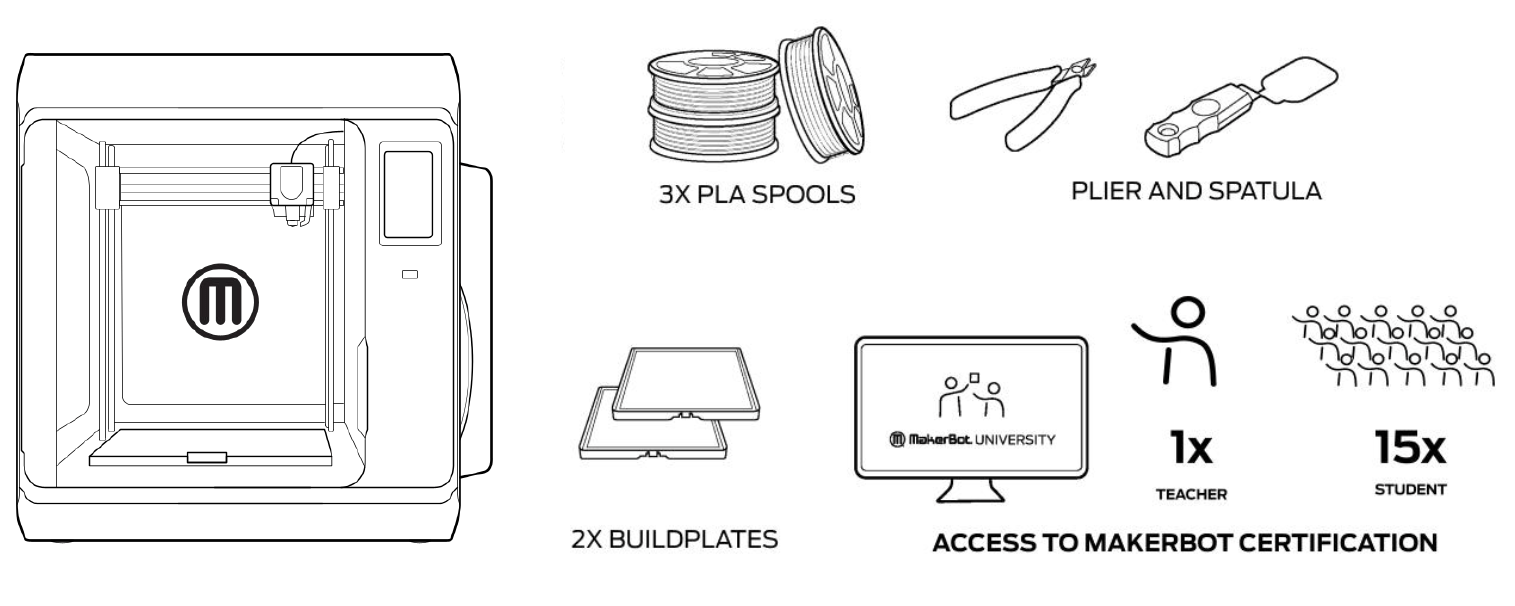 ● 1 MakerBot SKETCH Large 3D Printer
● 3 PLA Spools
● 1 Teacher Seat in MakerBot Certification
● 15 Student Seats in MakerBot Certification
● 2 Flexible Build Plates
● 1 Pair of Pliers and Spatulas
Industry leading Australian Warranty and Support
MakerBot 3D printers are backed by a full and comprehensive Warranty and support for Peace Of Mind. Our Australian based warranty centre and Technical support 3D Printing Experts are here to help. And you can upgrade to our swap out warranty (link to) for even greater peace of mind.
PRINTING
Print Technology
Fused Deposition Modeling (FDM)
Build Speed
Max Print Speed: Up to 150 mm/sec
Layer Resolution
Maximum Capability: 100-400 microns 
Print mode tuned for: 200 microns to provide an optimal balance of high surface quality and quick print time.
Maximum Build Volume: 220mm x 200mm x 250mm [8.66in x 7.87in x 9.84in]
Supported Materials
MakerBot PLA and Tough for SKETCH
Maximum Heated Build Plate Temperature: 110C [230F]
Operating Volume: 50dB
Recommended Print Mode: Balanced
HARDWARE
Print Heads: 1 (user replaceable)
Nozzle Diameter: 0.4mm
Nozzle Material: Stainless Steel (SU304)
Sensors: Filament Detection and Auto Loud/Unload
Display: 109mm colour touch screen [4.3in colour touch screen]
Build Plate: Heated with removable, flexible build surface
Build Surface: Grip Surface
Camera Resolution: 2 megapixels
Ambient Operating Temperature: 15C to 30C (59F to 86F] 10% to 70% RH non-condensing
Storage Temperature: 0C to 55C [32F to 131F]
Filter: Particle Filter
SIZE & WEIGHT
Product Dimensions
547mm (H) x 535mm (W) x 470mm (D)
[21.54in (H) x 21.07in (W) x 23.27in (D)]
Product Weight
23.2kg [51.15lb]
Shipping Weight
32.5kg [71.65lb]
Shipping Box
675 (H) x 569mm (W) x 591 (D) [26.57in (H) x 22.40in (W) x 23.27in (D)]
SOFTWARE
Software Bundle
MakerBot CloudPrint
File Types
MakerBot (.makerbot), STL (.stl) 
.catpart .dae .gib .iges .ipt .obj .par .sab .sat .sldprt.Thing .wrl x_t .3mf
Recommended Browser
Latest version of Chrome, Edge, Firefox or Safari
WHAT'S INCLUDED
Printing Capacity
670 cubic inches of printing space
Enough Printing for a Whole Semester
(3) Spools of Easy to Print, PLA Filament
3D Printer Training & Design Thinking Courses
(1) Teacher Seat in Printer Training Course & Curriculum Creation Course
(15) Student Seats in Printer Training Course & Design Thinking Courses
Classroom 3D Printing Management
Cloud-based, printer preparation software
Printer Features to Keep 3D Printing Easy and Worry-Free
(2) Flexible Build Plates
Heated Build Plate
Enclosed Print Chamber & Air Filter
Onboard Camera
Spatula & Snippers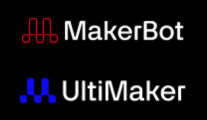 Find Us
HEAD OFFICE: 40 Koornang Rd, Scoresby
Victoria Australia 3179
3D Printers Australia : Melbourne, Adelaide, Brisbane, and Sydney