UltiMaker's  METHOD Carbon Fibre 3D printer delivers outstanding surface finish with high heat resistance. The carbon fibre printed parts are engineering grade with high level strength and three dimensional accuracy.
Our Carbon Fibre 3d printer reinforced nylon filament combines high strength, stiffness and superior heat resistance making it perfect for metal replacement and structural applications.
METHOD carbon fibre is an add on to both the METHOD and METHOD X platform, with the Extruder 1C, which allows you to print using Nylon Carbon Fibre.
In addition, you have the freedom to use our other materials, with the other extruders, which makes METHOD a flexible and powerful industrial 3D Desktop printer replacement.
METHOD CARBON FIBRE 3D PRINTER FEATURES
METHOD is a Next-Generation desktop 3D printing platform that delivers manufacturing-grade parts with advanced engineering materials.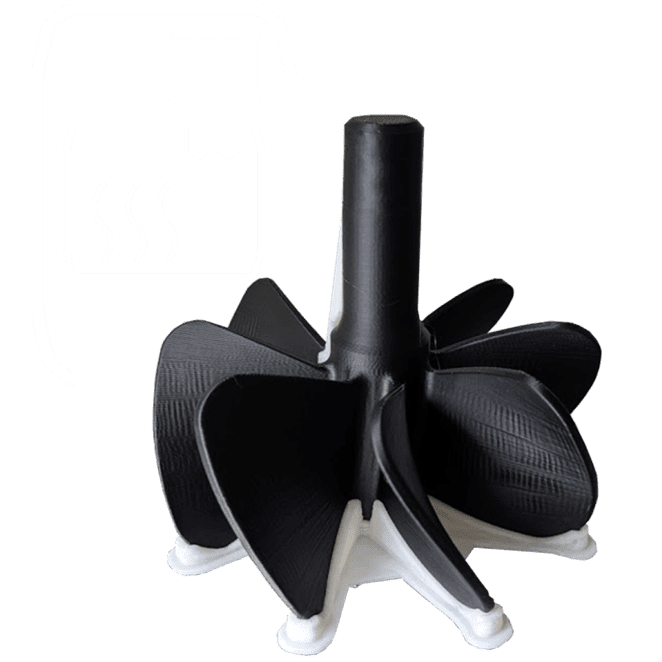 A Heated Chamber That Delivers Stronger Manufacturing-Grade Parts.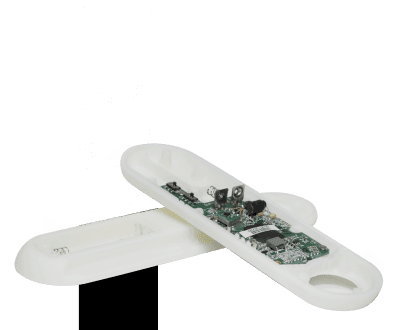 An Open Platform for Advanced Engineering Materials.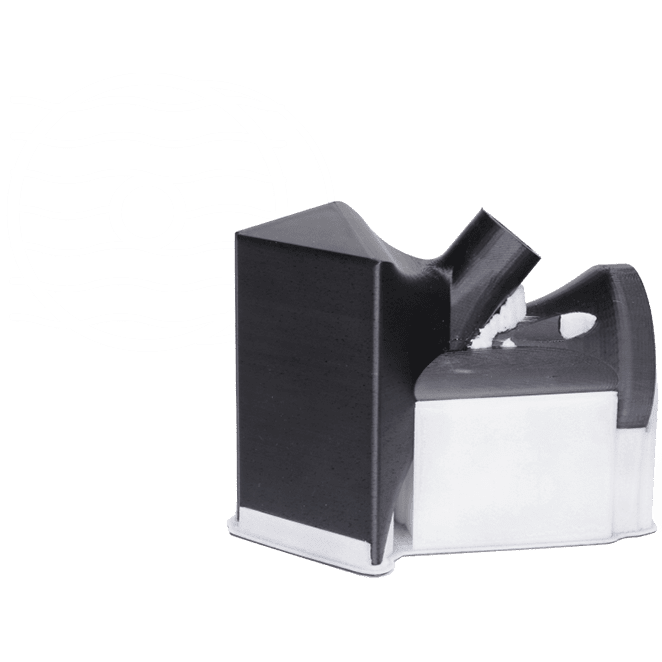 Guaranteed Part Accuracy and SR-30 Soluble Support .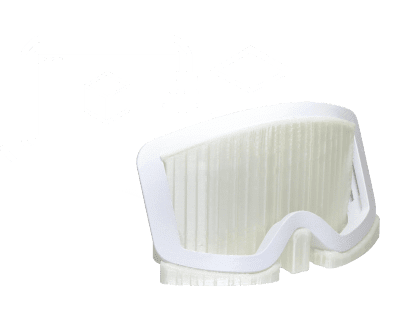 Save Engineering Time with an Automated Workflow and CAD Integration.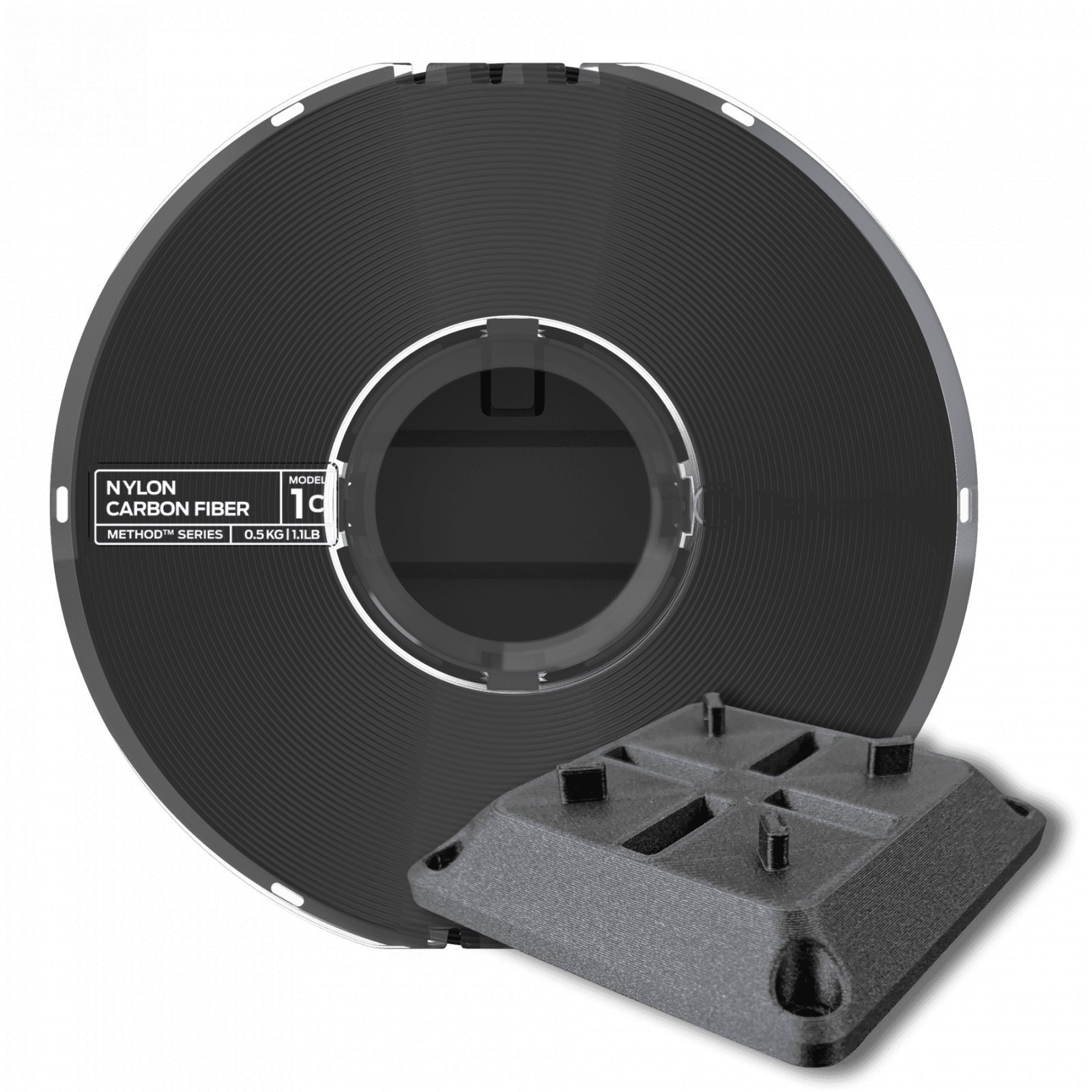 Carbon fibre 3D Printer reinforced nylon 6/66 blend for high strength to weight ratio and heat resistance. For max performance in controlled environments.
– 184°C HDT @0.455 MPa
– 110 MPa Tensile Strength
– 7600 MPa Tensile Modulus
Optimal performance requires extra steps and a controlled environment
Filament should be dried before printing

Higher print temp may result in stringing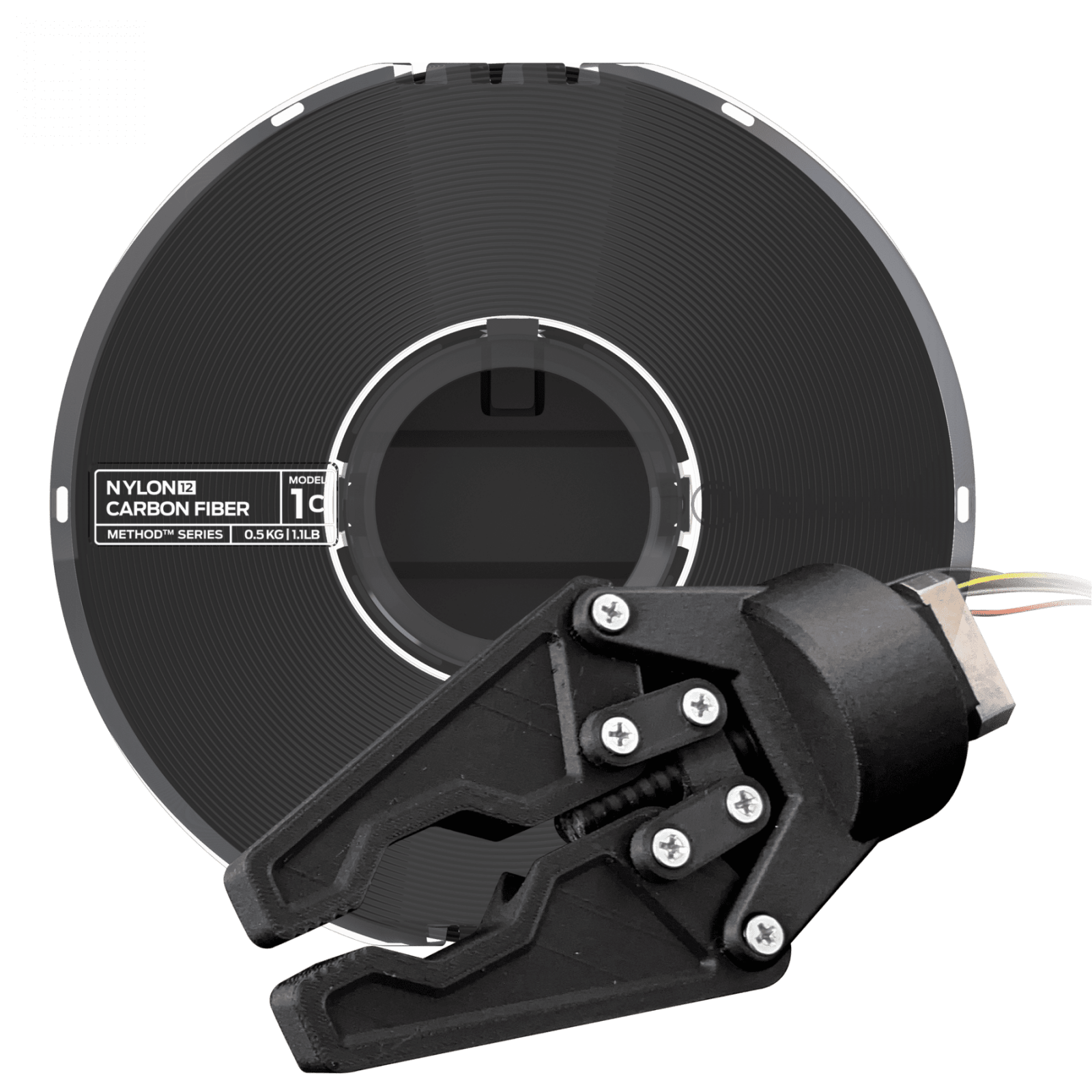 Nylon 12 provides the easiest carbon fibre composite 3D printing experience thanks to superior moisture resistance. For consistent performance in any environment.
– 154°C HDT @0.455 MPa
– 66 MPa Tensile Strength
– 6000 MPa Tensile Modulus
Nylon (6/66) Carbon Fibre has the highest peak performance in all categories, it is significantly affected by moisture which will reduce both strength and modulus. 
Nylon 12 Carbon Fibre is less affected by moisture and will retain more of its performance in the presence of moisture.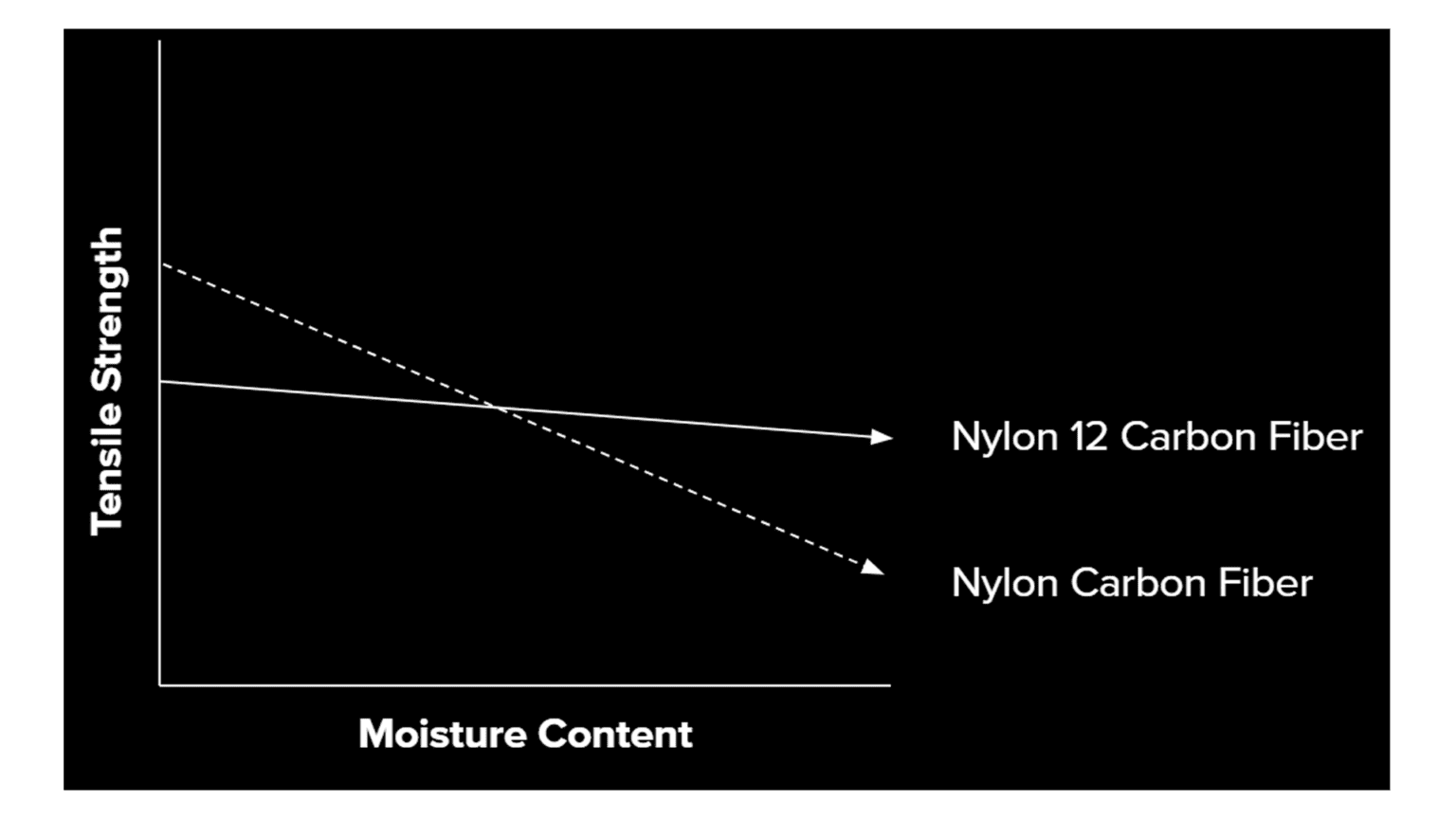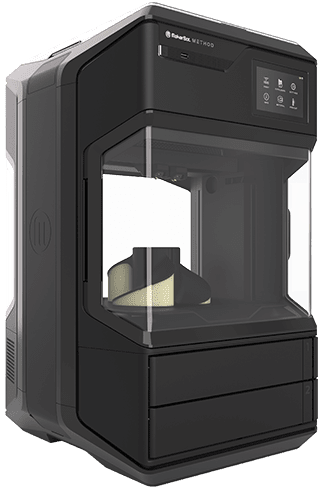 Print Carbon Fibre and a selection of polymers with the aid of a 60°C heated chamber with METHOD Carbon Fibre 3D Printer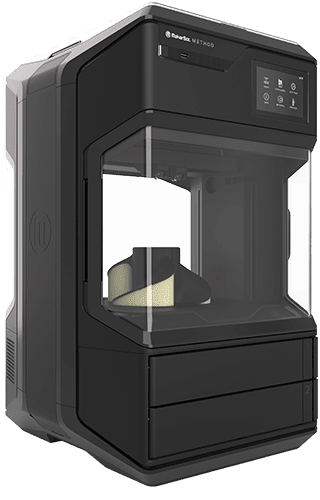 METHOD X Carbon Fibre 3D Printers allow you to use the full range of engineering composites and polymers with a 110°C heated chamber
METHOD CARBON FIBRE 3D PRINTER TECH SPECS PRINT TECHNOLOGY
Fused Deposition Modeling (FDM)
PRINT HEADS

    2
LAYER RESOLUTION
Range: 20 – 400 microns
BUILD SPEED
Up to 2x faster than desktop 3D printers2

Max Material Flow Rate: ~50 mm3 per sec

Print Head Travel Speed: Up to 500 mm per sec
PRINT MODES TUNED AND OPTIMIZED FOR:
100 microns – High Quality Print Mode (Coming Soon)
200 microns – Balanced Print Mode
MAXIMUM BUILD VOLUME
19 L x 19 W x 19.6 H cm / 7.5 x 7.5 x 7.75 in single extrusion (print settings coming soon)
15.2 L x 19 W x 19.6 H cm / 6.0 x 7.5 x 7.75 in dual extrusion
METHOD CARBON FIBRE 3D PRINTER HARDWARE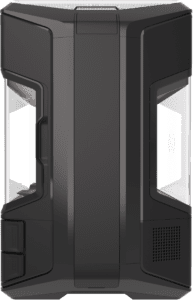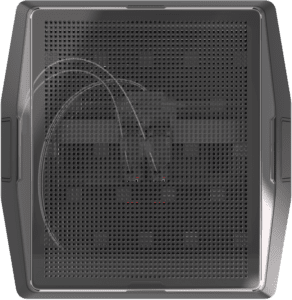 PRODUCT DIMENSIONS
43.7 L x 41.3 W x 64.9 H cm /
17.2 x 16.3 x 25.6 in
SHIPPING BOX DIMENSIONS
76.5 H x 50.0 W x 55.5 D cm /
30.1 x 19.7 x 21.9 in
FRAME CONSTRUCTION
Aluminum Die Cast Base
Extruded Aluminum Uprights
Steel Weldment Gantry Frame
BUILD PLATE
Flexible Steel Build Plate
BUILD SURFACE
Reusable Grip Surface
TEMPERATURE CONTROL
Circulating Heated Chamber
PRODUCT WEIGHT
29.5 kg / 65 lbs

SHIPPING BOX WEIGHT
37.1 kg / 81.7 lbs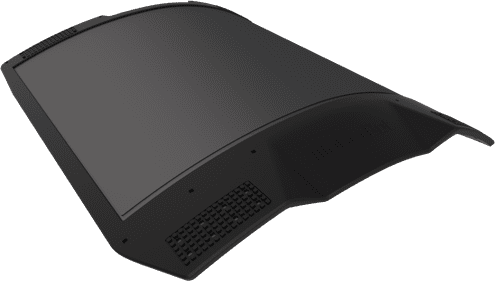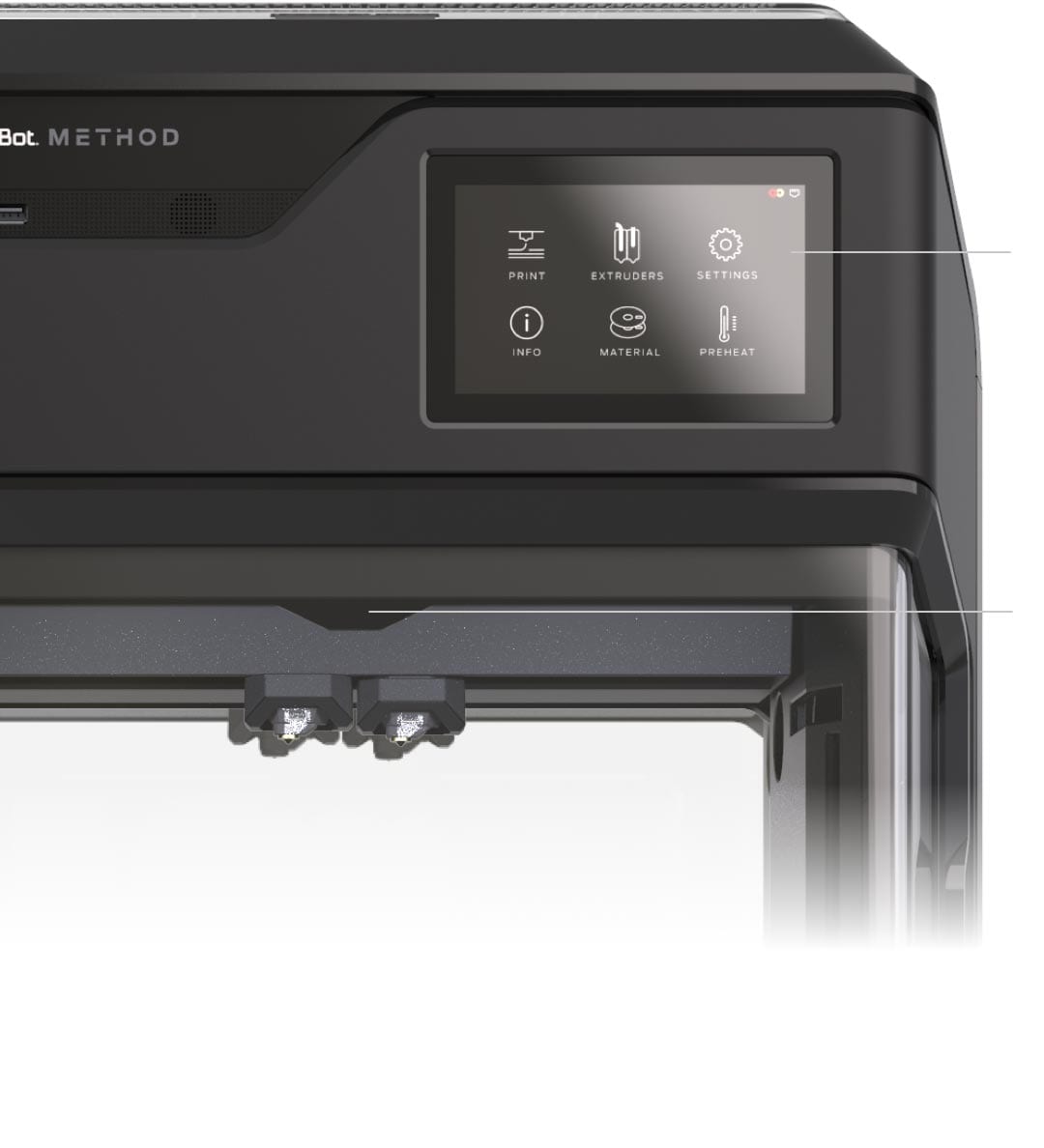 DISPLAY
5″ Full-Color Capacitive Touch Screen
CAMERA RESOLUTION
640 x 480 pixels
SENSOR SUITE
21 SENSORS INCLUDING:
DRAWER
Temperature
Humidity Control
Material Detection
RFID
PERFORMANCE EXTRUDERS
Temperature
Material Detection
Encoder (Jam Detection)
PRINTER
Lid – Open/Closed
Door – Open/Closed
Temperature Sensors – Heated Chamber
Calibration Sensors
EXTRUDER THERMAL CORE LENGTH
48.2 mm
MAX EXTRUDER DRIVE TORQUE
200 Newtons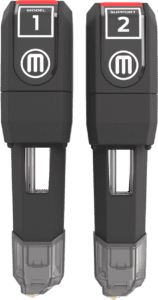 SPOOL TYPE
Smart Spools with RFID sensors
SPOOL SENSORS
Remaining Material,
Material Color,
Material Kind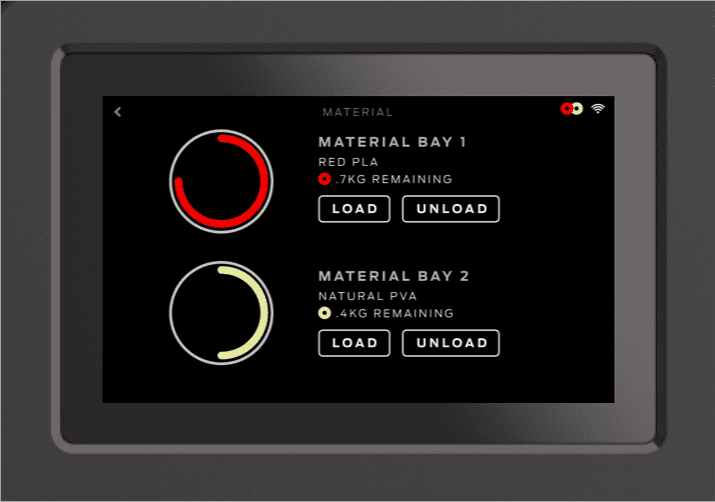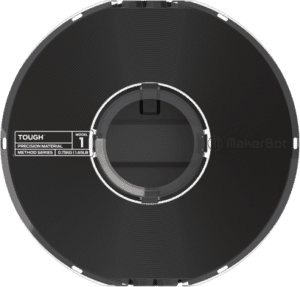 SUPPORTED MATERIALS
MakerBot Precision Materials: ABS, ASA, PLA, Tough, PVA, SR-30
MakerBot Specialty Materials: NYLON, PETG, plus more
MAKERBOT PRECISION ABS

 Cool Gray

 True Black

 Natural

 True White

 True Orange

 True Red
MAKERBOT PRECISION TOUGH

 Slate Gray

 Onyx Black

 Stone White

 Safety Orange
MAKERBOT PRECISION PLA

 Cool Gray

 True Black

 Natural

 True White

 True Orange

 True Red
MAKERBOT SPECIALTY PETG

 Translucent
METHOD CARBON FIBRE 3D PRINTER OPERATION
AMBIENT OPERATING TEMPERATURE
15 – 26º C / 59 – 78º F, 10 – 70% RH non-condensing

STORAGE TEMPERATURE
0 – 38º C / 32 – 100º F
PRINTER AUTOMATION
Automatic Z Calibration, Automatic Nozzle Calibration, Automatic Material Loading
FCC
EMC
Low Voltage Directive 60950-1, 62368l Loading
METHOD CARBON FIBRE 3D PRINTER SOFTWARE
SOFTWARE BUNDLE
MakerBot Print, MakerBot Mobile
SUPPORTED FILE TYPES
MakerBot (.makerbot), STL (.stl), SolidWorks (.sldprt, .sldasm), InventorOBJ (.ipt, .iam), IGES (.iges, .igs), STEP AP203/214 (.step, .stp), CATIA (.CATPart, .CATProduct), Wavefront Object (.obj), Unigraphics/NX (.prt), Solid Edge (.par, .asm), ProE/Creo (.prt, .asm), VRML (.wrl), Parasolid (.x_t, .x_b)
OPERATING SYSTEMS
Windows (7, 10)
Mac OS X (10.9+)
METHOD CARBON FIBRE 3D PRINTER ELECTRICAL
CONNECTIVITY
USB Drive, USB, Ethernet, Wi­Fi
POWER REQUIREMENTS
METHOD
100 – 240 V
3.9A – 1.6A, 50 / 60 Hz
400 W max.

METHOD X
100 – 240 V
8.1A – 3.4A, 50 / 60 Hz
800 W max.
1 ± 0.2 mm or ± 0.002 mm per mm of travel (whichever is greater). Based on internal testing of selected geometries.
2 Compared to popular desktop 3D printers when using the same layer height and infill density settings. Speed advantage dependent upon object geometry.
3 Expected total amount of testing to be completed prior to shipping.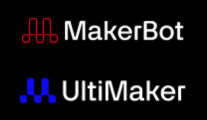 Find Us
HEAD OFFICE: 40 Koornang Rd, Scoresby
Victoria Australia 3179
3D Printers Australia : Melbourne, Adelaide, Brisbane, and Sydney