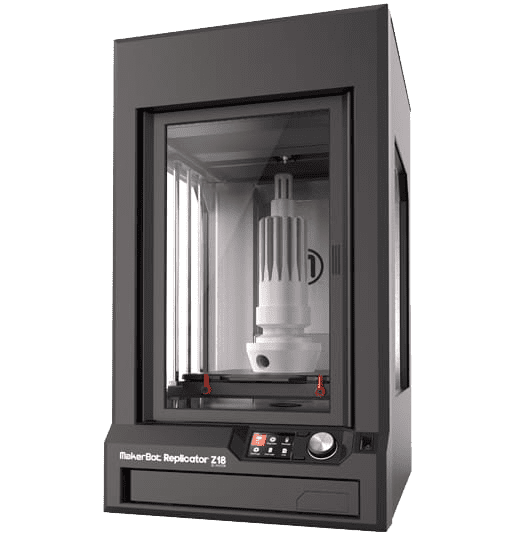 The Replicator Z18 3D is no longer available
MakerBot Replicator Z18 3D printer
MakerBot Replicator Z18
The Z18 features a supersized build volume with both speed and reliability for your prototypes. This 3D printer boasts the best price to performance ratio in the extra large, professional 3D printer category.
This gives you the power to 3d print at a vastly lower cost than industrial 3d printers. The Z18 3D printer comes with MakerBot's Smart Extruder, that keeps your 3D printing on track and even alerts you to replace filament when it runs out. The Z18 also comes with an onboard camera so you can monitor your prints, wherever you are.
Prints up to 1.5 X faster than the competition

Prints up to 1.7 x size with increased build volume

Use MakerBot PLA and MakerBot Tough filament

Create large volume functional prototypes
2,592 CUBIC INCHES

30.0 L X 30.5 W X 45.7 H CM

11.8 L x 12.0 W x 18.0 H IN

Make extra-large and ultra-tall industrial concept models and prototypes. Think and build bigger than ever.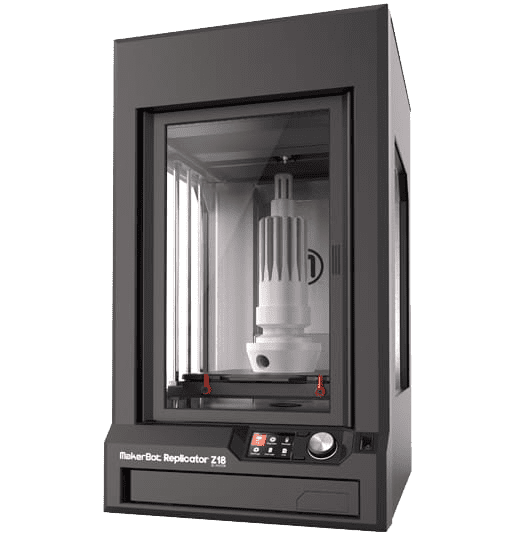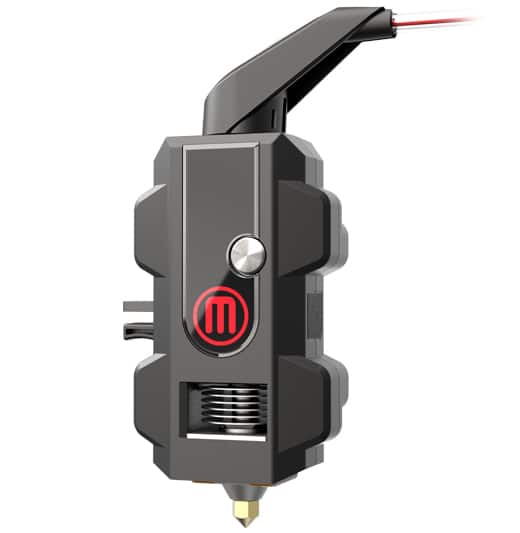 INCLUDES THE MAKERBOT SMART EXTRUDER+
Double the warranty of its predecessor, the Smart Extruder+ is a culmination of product design and 160,000+ hours of rigorous testing that delivers dependable, consistent performance with superior results using MakerBot PLA Filament.
The best price-to-performance ratio in the extra-large, professional 3D printer category
Optimised for MakerBot PLA Material
Safe for both the office and classroom, this material is non-toxic, and prints with minimal warping and curling. MakerBot PLA material is optimised to give you high quality print results for the Replicator Z18 3D printer.
MakerBot Tough PLA Smart Extruder+
Add to your Z18 printers capabilities with the Tough PLA Smart Extruder+. Created for engineers and designers, the MakerBot Tough PLA Smart extruder allows you to print using MakerBot Tough PLA filament, for durable high strength prototypes and fixtures. This is an optional extra for the Z18.

Send print files to your 3D printer via Wi-Fi, USB, Ethernet, or with a USB drive. Control your printer via MakerBot Print or remotely with MakerBot Cloud.

Store, organize, and access 3D design files in your personal cloud-enabled library on MakerBot Print. MakerBot's free downloadable software is compatible with Mac or Windows computers.

MakerBot Warranty & Support
MakerBot Support offers comprehensive coverage plans and responsive expertise from those who know MakerBot products best. Our support site also offers both intelligent troubleshooting and in-depth product information.
PRINTING
Print Technology
Massive Build Volume for the Professional Innovator
Build Volume
30 L X 30.5 W X 45.7 H CM
[11.8 X 12 X 18 IN]
[2549 Cubic Inches]
Layer Resolution
100 microns [0.0039 IN]
Filament Diameter
1.75 mm [0.069 in]
Filament Compatibility
MakerBot PLA Filament
Large Spool,
MakerBot PLA Filament
Small Spool,
MakerBot Tough PLA Filament
Large Spool
Nozzle Diameter
0.4 MM [0.015 IN]
Print File Type
.MAKERBOT
TEMPERATURE
Ambient Operating Temperature
15-32°C [60-90°F]
Storage Temperature
0-38°C [32-100°F]
SIZE & WEIGHT
Product Dimensions
49.3 L X 56.5 W X 86.1 H CM
[19.4 X 22.2 X 33.9 IN]
Shipping Box
65 L X 71.9 W X 106 H CM
[25.6 X 28.3 X 41.75 IN]
Product Weight
41 kg [90 lb] 
Shipping Weight
(Includes Accessory Kit)
52 KG [115 LBS]
MECHANICAL
Construction
PC ABS with Powder-Coated Steel Reinforcement, Aluminum Casting and Extrusions for Motion Components
Build Surface
Grip Surface
Stepper Motors
1.8° step angle with 1/16 micro-stepping
XY Positioning Precision
11 Microns [0.0004 IN]
Z Positioning Precision
2.5 Microns [0.0001 IN]
SOFTWARE
Software Bundle
MakerBot Print Software,
MakerBot Mobile
Supported File Types
STL, OBJ
Operating Systems
Windows (7, 10)
Mac OS X (10.9+)
ELECTRICAL
Power Requirements
100-240 V, 50-60 HZ
0.76-0.43 A
Connectivity
USB, Ethernet, Wifi
CAMERA
320 x 240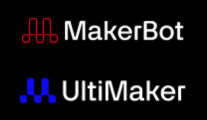 Find Us
HEAD OFFICE: 40 Koornang Rd, Scoresby
Victoria Australia 3179
3D Printers Australia : Melbourne, Adelaide, Brisbane, and Sydney