Are you looking for an Industrial 3D Printer at a desktop price? Read on to learn how MakerBot's METHOD platform can deliver just that, with this unique collection of Top 10 features that sets METHOD apart from the rest.
1. 360° OF 110°C
Circulating Heated Chamber
Many desktop 3D printers use heated build plates to try and regulate their environment and prevent warping on the print bed. This improves adhesion to the build plate for the first layer and… that's about it. METHOD uses the patented Circulating Heated Chamber to rapidly warm the entire build chamber up to 110°C providing optimal print conditions from first layer to last. The result is a degree of dimensional accuracy typically reserved for industrial 3D printers (±0.007 in), at the base layer and everywhere else.
2. Two Toolheads. Infinite Possibilities
Dual Performance Extruders
When it comes to FDM 3D printing, the toolhead or extruder is one of the most important features. Based on an industrial-grade design from Stratasys, METHOD's extruder was designed from the ground up with the professional in mind. With an all new lengthened thermal core, dual drive gears with 19:1 gear ratio of torque, and MakerBot's industry-leading intelligent sensor suite, METHOD X comes with significantly improved print quality and speed.
3. The Ultimate Open Materials Platform
Print Metals, Composites and Polymers all on one machine
Finding the right desktop 3D printer for your application can have a lot to do with materials. Sure most 3D printers claim to be able to print everything these days – from basic PLA to ABS and more. Material compatibility on MakerBot METHOD goes beyond lofty claims. With purposely engineered features like a circulating heated chamber keeping the print at up to 110°C throughout the print, and dual modular extruders acting as purpose-built tool-heads for each material group, even the most warp-prone materials like ABS come out with guaranteed dimensional accuracy. That's something you won't find on any other desktop 3D printer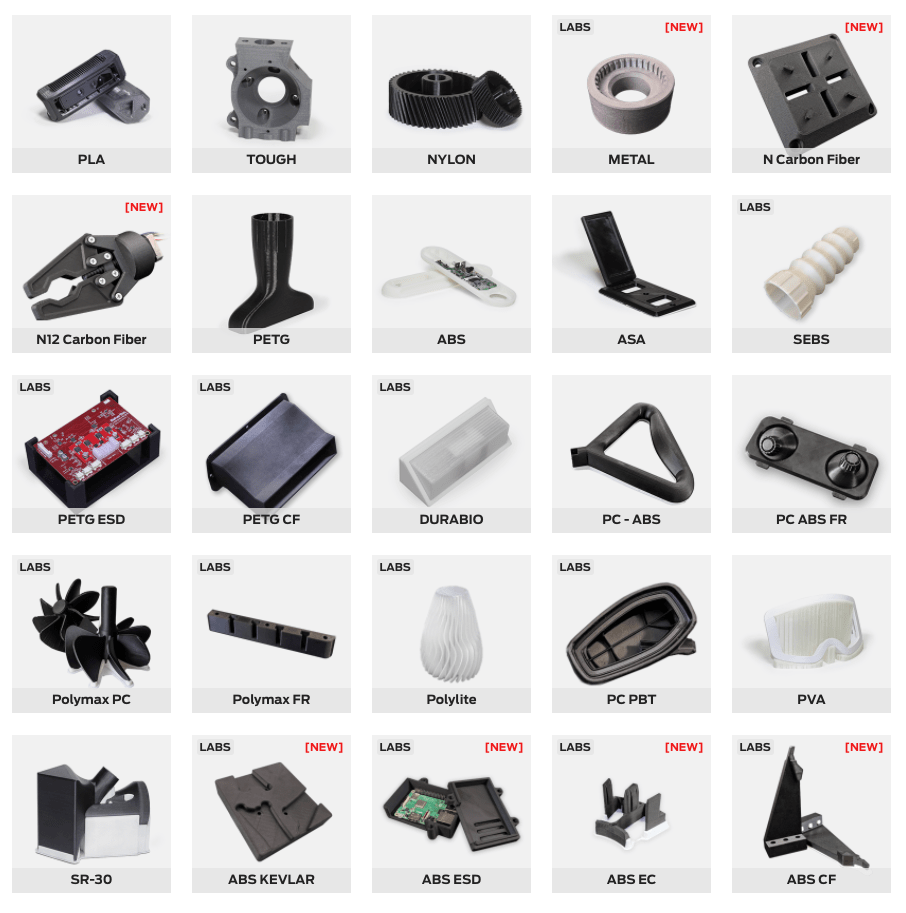 4. Built in Auto-Calibration
Auto-Calibration for Dual Extruders
One of the frustrations of using dual-extrusion 3D printers is the manual calibration of the extruders on most desktop machines. METHOD automates this process so you can focus more on product design and less on maintenance.
5. Dry Filament in Any Environment
Dry-sealed Material Bays and Dry Material Mode
3D printing in even a remotely humid environment can negatively impact print quality, not to mention compromise reliability and part dimensional accuracy. In short, humidity is not the friend of FDM 3D printers. METHOD utilizes dual material bays that are sealed from the outside environment to protect your filament from exposure to damaging humidity. That, combined with desiccant in each Smart Spool, a protective mylar storage bag that comes with each Smart Spool, and the new Material Drying mode that allows you to revive old spools, allows METHOD to work reliably and accurately from the lab to factory floor.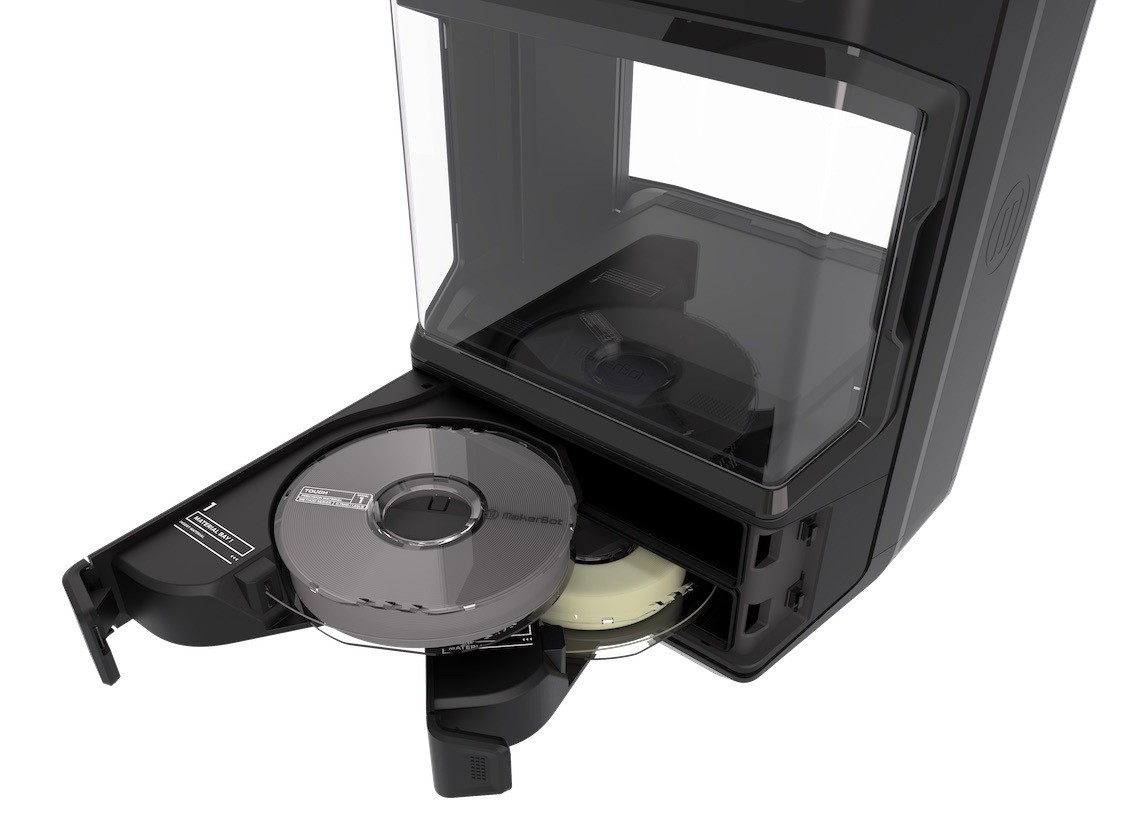 6. Autoloading for Quick Material Change
Smart Assist Material Loading
Material loading on 3D printers can be a pain. METHOD's material loading system is designed to take complexity and frustration out of the equation. Just drop the Smart Spool into the Dry Sealed Material Bays located on the front of the printer, and feed the filament tip into the slot, close the drawer and the printer loads the filament all the way up and into the extruders so that it's ready to print.
7. Less Frame Flex
Ultra Rigid Metal Frame
Printer body stiffness translates directly into part reliability and precision. We've taken a page out of the Stratasys playbook by implementing a heavy-duty, all metal architecture utilizing die-cast and extruded aluminum that extends from the bottom of the printer to the top.
8. Print Anywhere, Anytime
MakerBot CloudPrint
METHOD is MakerBot's first fully-connected professional 3D printer, bringing added benefits like real-time filament information, humidity monitoring, and team 3D printing collaboration through printer sharing and analytics from anywhere. All of these benefits are accessible remotely through the MakerBot CloudPrint browser-based app, whether your printer is in the lab or in another time zone.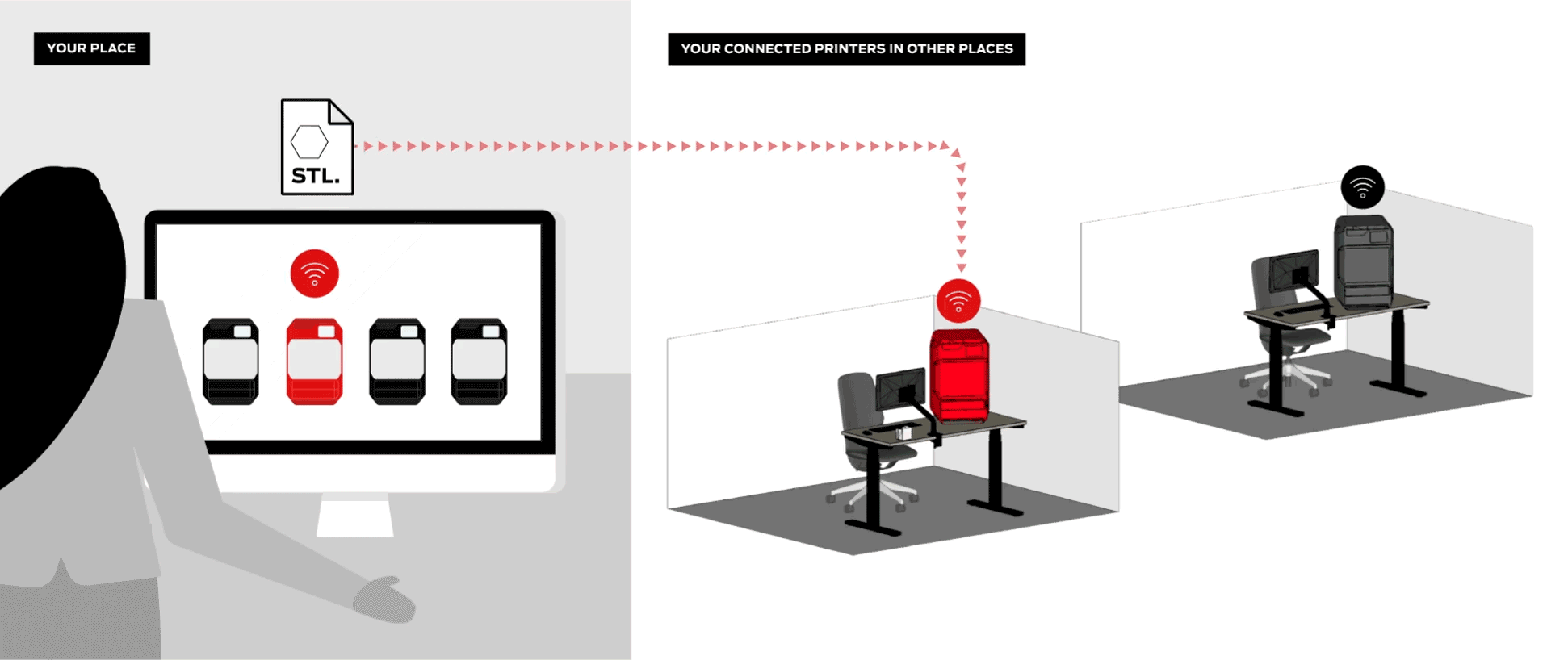 9. Precision Levelled with Quick Part Release
Magnetic Spring Steel Build Plate on Machined Aluminium Base
The build surface is another crucial element in FDM 3D printing. Whether you're printing in ABS, Nylon, or just PLA, an uneven surface can lead to a warped print. METHOD X combines two elements to create a unique solution. First is an aluminum base plate, machined and factory-calibrated for extreme flatness. Second is a spring steel build plate that magnetically conforms to the base plate via a dozen high-strength magnets. This not only provides flatness, but also makes print removal a breeze. Just pick up the build plate and flex it to pop the print off. The steel build plate also quickly heats to the temperature of the chamber to give it extra hold throughout the print.
10. Swap and Lock Extruders
MakerBot developed one of the first interchangeable extruders for the desktop FDM 3D printer market with the Smart Extruder. With METHOD, that concept has taken a step forward. The ability to quickly swap the extruders makes METHOD a growing platform with purpose-built, interchangeable hardware while allowing for simple, tool-free maintenance.METHOD's extruders are securely locked into place with a latch mechanism – minimizing extruder wobble and contributing to METHOD's unique dimensional accuracy specifications.
Want to learn more?
Now that you have seen the Top 10 features of the MakerBot METHOD platform, it's time to find the METHOD 3D printer most suitable for you. Download this handy comparison sheet to learn more about the difference between METHOD, METHOD X and METHOD Carbon Fibre 3D Printers, explore our METHOD product page,  or contact MakerBot Australia today