MakerBot Sketch
The all-in-one 3D printer solution built for education
Brought to you by the leader in 3D printing for education, MakerBot Sketch is the easiest to use and most reliable 3D printer for the classroom. Each MakerBot Sketch package comes with 2 Sketch 3D printers plus enough filament to start your 3D printing journey. It also includes online training modules for 3D printing classroom success, hundreds of curated 3D printing lesson plans, plus all tools and accessories needed.
Complete your classroom printing faster with two 3D printers

Make 3d printing more accessible to your students

Boost opportunities for student innovation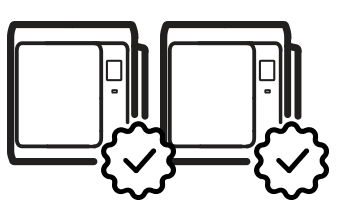 Maximise Student Innovation
The access you need to print your students' projects and keep innovation going strong.

Combine Hybrid Classroom Teaching with Hands on Learning.

Unlock students' creative potential with accessible 3D printing merged with project-based learning.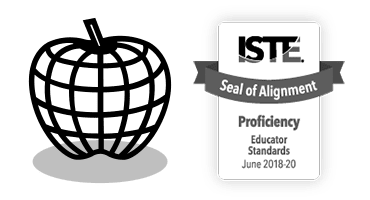 Develop Professionally, Gain Confidence
Over 15 hours of student curriculum with Design Thinking and 3D Printing.

3D printer training for both teachers and students.

3D Printing-Integrated training for teachers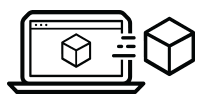 3D Printing Collaboration from Anywhere
Free cloud-based software with MakerBot CloudPrint integrated with Google Classroom.

Design-to-Print integrations across familiar softwares like TinkerCad, Fusion 360 and Onshape.
Lower the Curriculum-Planning Barrier
Access 600+ lesson plans across various grade levels & subjects.

Join the largest 3D printing community of educators.

Curated lesson plans created by MakerBot Certified Educators.
Fast track your 3D Printing Success with the MakerBot Certification (TM) Program
Each MakerBot Sketch dual printer package comes with two teacher and ten student certification licenses for free.
With the MakerBot Certification ™ program you get access to a full set of interactive content, projects, quizzes and exams developed by MakerBot Certified Educators. With the MakerBot Certification program, you will become a 3D printing expert in no time.
This powerful online training program teaches both you and your students to use 3D printers effectively. This is a great way to certify your students real world problem solving through design thinking and 3D printing in the classroom.
Find out more about the MakerBot Certification Program and see what is included in our Certification Program Guide
Hundreds of Classroom 3D Printing Lesson Plans with Thingiverse
Thingiverse education provides over 600 free lesson plans that make teaching with a 3D printer easier and more effective across a broad range of grade levels and subjects. It also provides a community where educators can exchange best practises, and remix or submit projects. Get inspired by the broad range of lesson plans and ideas at Thingiverse.
3D Printing that is safe for you and your students
The Sketch uses completely safe and non-toxic filament, which means it is safe to have in the classroom for you and your students.
In addition the Sketch uses an enclosed print chamber, heated build plate and a particulate filter.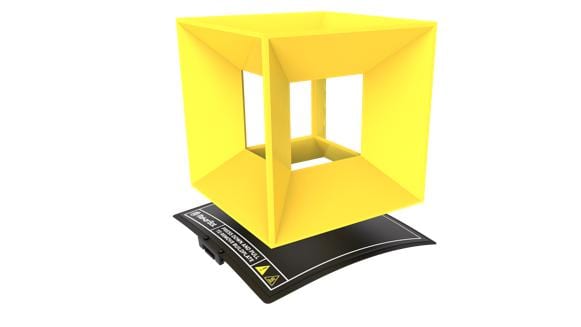 Heated and Flexible Buildplate
Heated build plate for secure, successful printing and a flexible surface to make removing finished prints a breeze.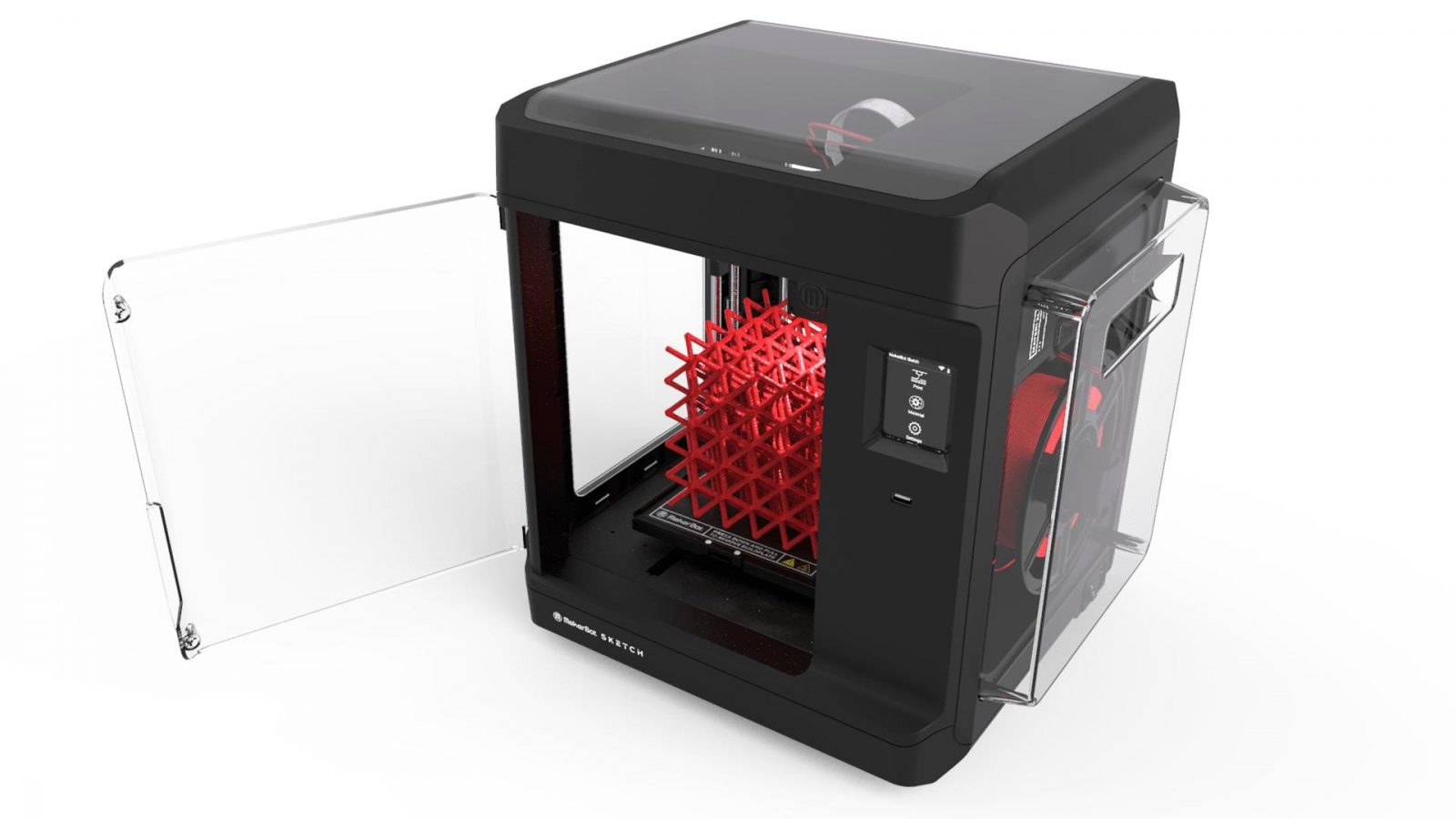 Enclosed Chamber and Particulate Filter
Place your printers anywhere in the classroom without worrying about curious hands and print with peace of mind with a particulate filter installed in each printer.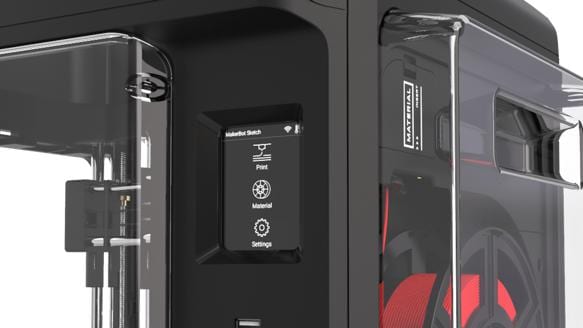 Touch Screen Controls
Allows you to start, montior and pause your student's prints for easy 3D printing navigation.
Full access to MakerBot CloudPrint
The MakerBot Sketch also includes full access to MakerBot CloudPrint, our 3D printing file management software. Students can submit their designs easily and teachers can queue up their classrooms prints seamlessly. This cloud based tool also allows you to print to the Sketch remotely for greater accessibility.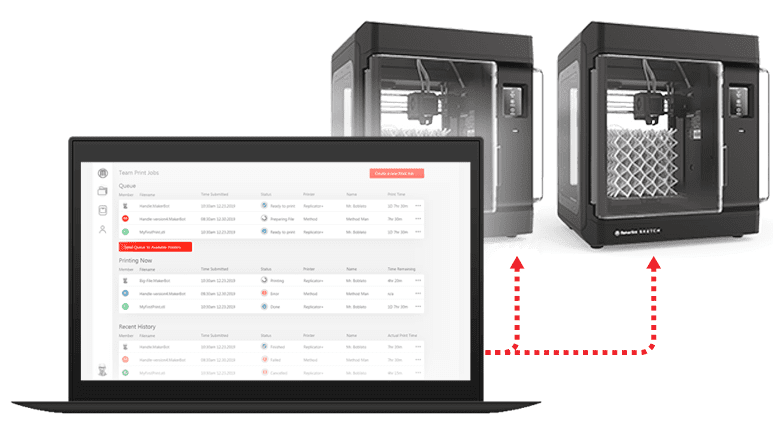 MakerBot Educators Guidebook
The MakerBot Educators Guidebook is the definitive guide to 3D printing in the classroom. Developed with and for teachers, so that they could have tangible lessons in their classrooms. Download your free copy here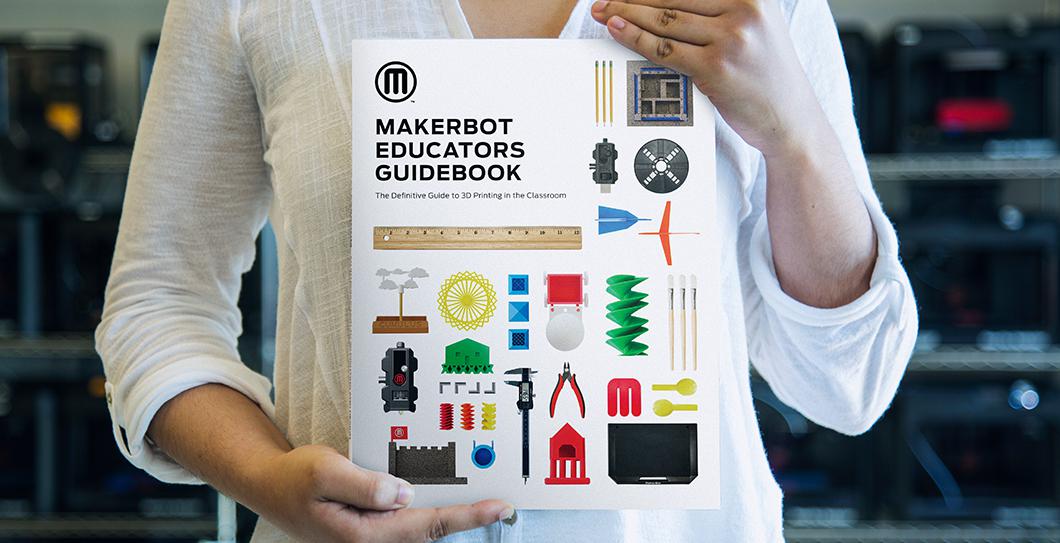 WHAT'S INCLUDED WITH THE SKETCH CLASSROOM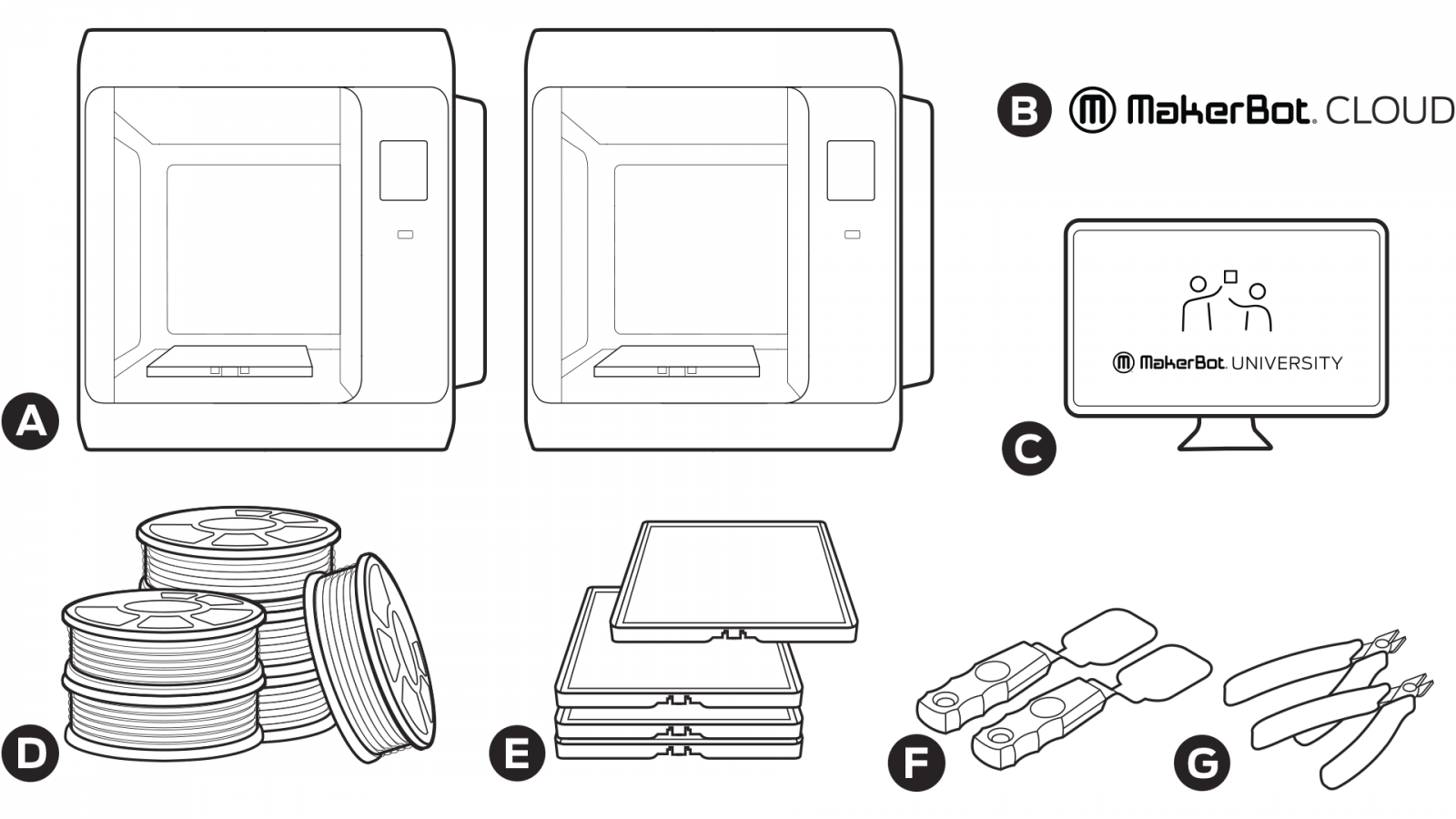 TWO MAKERBOT SKETCH™ DESKTOP 3D PRINTERS
A – 2 MakerBot SKETCH™ 3D Printers
B – MakerBot Cloud™
D – 6 MakerBot PLA Spools
E – 4 Build Plates
F – 2 Spatulas
G – 2 Snips
THE MAKERBOT CERTIFICATION™ PROGRAM FOR STUDENTS AND TEACHERS
C – 2 Seats in MakerBot Certification™ for Educators
C – 10 Seats in MakerBot Certification™ for Students
Industry leading Australian Warranty and Support
MakerBot 3D printers are backed by a full and comprehensive Warranty and support for Peace Of Mind. Our Australian based warranty centre and Technical support 3D Printing Experts are here to help. And you can upgrade to our swap out warranty (link to) for even greater peace of mind.
PRINTING
Print Technology
Fused Deposition Modeling
Build Volume
150mm x 150mm x 150mm
[5.9in x 5.9in x 5.9in]
Layer Resolution
100-400 microns [0.0039 IN-0.0157 IN]
Print mode tuned for 200 microns
Material Diameter
1.75 mm [0.069 in]
Material Compatibility
MakerBot Sketch PLA Material
MakerBot Sketch Tough Material
Extruder Compatibility
MakerBot Sketch Extruder
Nozzle Diameter
0.4 MM [0.015 IN]
Print File Type
.MAKERBOT
TEMPERATURE
Ambient Operating Temperature
15-30°C [59-86°F]
Storage Temperature
0-55°C [32-131°F]
SIZE & WEIGHT
Product Dimensions
433.4mm (H) x 423.1mm (W) x 365.0mm (D)
[17in (H) x 16.6in (W) x 14.4in (D)]
Shipping Box
549mm (H) x 517mm (W) x 46mm (D)
[21.625in (H) x 20.375in (W) X 18.25in (D)]
Product Weight
11.8 kg [26 lb] 
Shipping Weight
17kg [37.5 lb]
MECHANICAL
Build Surface
Grip Surface
Build Plate Leveling
Heated with removable flexible build surface
SAFETY & COMPLIANCE
Fully enclosed
Particulate Filter
UL, CE, FCC
IEC/ EN/ UL60950-1, IEC/ EN/UL 62368-1

SOFTWARE
Software Bundle
MakerBot Print Software
Supported File Types
MakerBot (.makerbot)
STL (.stl)
SolidWorks (.sldprt, .sldasm)
InventorOBJ (.ipt, .iam)
IGES (.iges, .igs)
STEP AP203/214 (.step, .stp)
CATIA (.CATPart, .CATProduct)
Wavefront Object (.obj)
Unigraphics/NX (.prt)
Solid Edge (.par, .asm)
ProE/Creo (.prt, .prt., .asm, .asm.)
VRML (.wrl)
Operating Systems
Windows (7, 10)
Mac OS X (10.12+)
NOTE: Does not support Mac Catalina
CAD Plugins
SolidWorks, Autodesk Fusion 360, Onshape, Autodesk Inventor
ELECTRICAL
Power Requirements
100-240 V, 50-60 HZ
2.7-1.3A 
Connectivity
USB, Ethernet, Wifi
CAMERA
Camera resolution
2 megapixels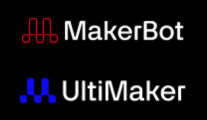 Find Us
HEAD OFFICE: 40 Koornang Rd, Scoresby
Victoria Australia 3179
3D Printers Australia : Melbourne, Adelaide, Brisbane, and Sydney